Hello! This is the fifth and final review of the Half-Blood Readalong of Percy Jackson series hosted by Alex @ A Geek with Books and Arvenig @ Arvenig.it. If you want more information on our readalong, you can check out our announcement post.
We're going to do a different kind of review. Obviously, it's going to be from both of us, but it's also in a Q&A format! (Tell me what you think of this because I really like it!)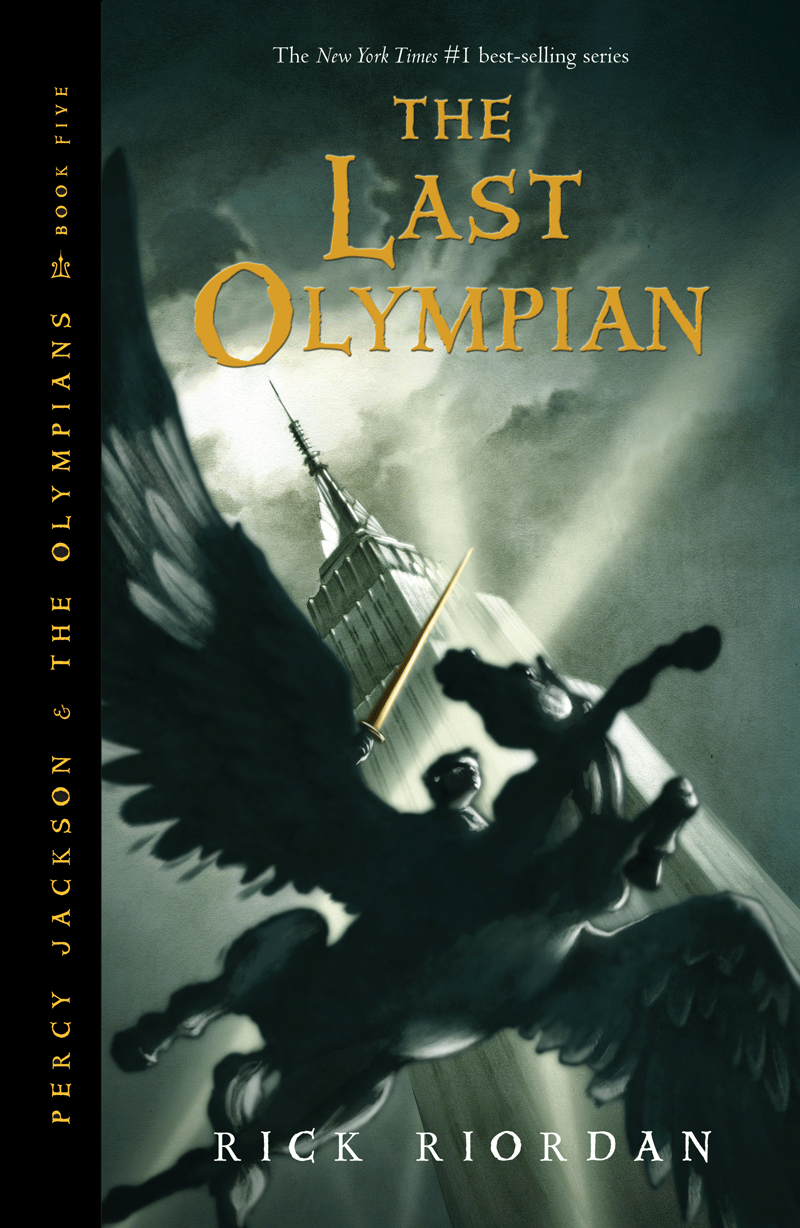 The Last Olympian by Rick Riordan
Genre: YA, fantasy, fiction

Published May 5th 2009 by Disney Hyperion Books
Pages: 381
Series: Percy Jackson and the Olympians (Book Five)
Average Goodreads Rating: 4.49 out of 5 stars
My ra

ting:

4.5 out of 5 stars
Alex's r

ating:

5 out of 5 stars
Plot: All year the half-bloods have been preparing for battle against the Titans, knowing the odds of victory are grim. Kronos's army is stronger than ever, and with every god and half-blood he recruits, the evil Titan's power only grows. While the Olympians struggle to contain the rampaging monster Typhon, Kronos begins his advance on New York City, where Mount Olympus stands virtually unguarded. Now it's up to Percy Jackson and an army of young demigods to stop the Lord of Time.In this momentous final book in the New York Times best-selling Percy Jackson and the Olympians series, the long-awaited prophecy surrounding Percy's sixteenth birthday unfolds. And as the battle for Western civilization rages on the streets of Manhattan, Percy faces a terrifying suspicion that he may be fighting against his own fate.
REVIEW
What were your thoughts before reading?
Alex: This event is almost over and that means summer is almost over and I have to go back to schoollllllllll *cries*. But seriously. I was in shock that this readalong was almost over! I was so excited to read this book again. I feel like it does the whole "going out with a bang" thing spectacularly (SPOILER FOR BoO? IDK *cough*by that I mean better than The Blood Olympus *cough*), and who doesn't wanna read that over and over again?

Arvenig: I was excited as for the other books, but also a little bit sad since this will be the last post (and book) of the readalong! Well my school starts the 12th of September, but well now I'll have to actually do homeworks… *sigh*

What are your final thoughts after reading the book?
Alex: Now it's actually over and everything is almost over and I don't know how to cope. I'm honestly really really proud of myself. I've always been the kind of person that gives up in the middle of doing something because I get bored or frustrated, but I didn't do that this time. I mean, I reread one of my favorite series this summer. That's a pretty huge accomplishment for me. I've never reread an entire series before!.
Arvenig: So this book surprised me a lot , maybe it's my favourite in the series, even if the first books of a series always have a little special space. I really liked the way it ended, SPOILER ALERT since a lot of people are mentioned from the gods to "normal" people like Rachel END OF SPOILER. I'm also happy that I started reading this series even if when I was younger I didn't like at all the movie!

What did you think of the plot/storyline?
Alex: Obviously, the difference between this book and the first four is that the characters aren't on a quest, which is a pretty huge change. I was actually kind of sad that I remembered what all the lines in the prophecy going into this book (that wasn't the case with The Battle of the Labyrinth), which probably made it less enjoyable. This book is just so awesome when you have no idea what's going to happen. At the same time, rereading it felt like I had this huge secret that I was just dying to tell the characters. I feel like that's enjoyable in its own way.

Arvenig: This time I really really really liked the storyline, in fact, there's always something you don't expect. A lot of monsters, gods, etc. that we have maybe only seen once in the first four books are here again. During the first books, most of the times, the first part didn't get me.

What was your reaction to the deaths in this book?

Alex: AHHHHH. I knew that I had forgotten a lot of the deaths in this book because, well, there were quite a few. It's a war book. That's what happens. It definitely has a different feel than the deaths in the previous books because of that. Some deaths were just casually mentioned, others that were more important to the plot were focused on more. Each one broke my heart a little more. I actually cried this time around, which I didn't do the first time. Maybe I'm becoming less of a robot, maybe I'm more sensitive, maybe I've experienced more death thus I have a more personal connection to it, I'm not sure, but I know it upset me more this time.
Arvenig: Well the books always kind of sum up what happened before and this time there were more deaths than other memories from last year… I always hate when authors kill people that, for me, would live happily ever after, and the feels came again in this book… I expected some of them and some of them were maybe even right, but SOME OF THEM WERE REALLY UNNECESSARY!
What are your top 5 favorite quotes?
Alex:
"'With great power… comes great need to take a nap. Wake me up later.'"

[SPOILER] "'As for my brothers,' Zeus said, 'we are thankful'-he cleared his throat like the words were hard to get out-'erm, thankful for the aid of Hades.'




The lord of the dead nodded. He had a smug look on his face, but I figure he'd earned the right. He patted his son Nico on the shoulders, and Nico looked happier than I'd ever seen him.




'And, of course,' Zeus continued, though he looked like his pants were smoldering, 'we must…um…thank Poseidon.'




'I'm sorry, brother,' Poseidon said. 'What was that?'




'We must thank Poseidon,' Zeus growled. 'Without whom . . . it would've been difficult-'




'Difficult?' Poseidon asked innocently.




'Impossible,' Zeus said. 'Impossible to defeat Typhon.'

"We need music," Nico said. "How's your singing?"




"Um, no. Can't you just, like, tell it to open? You're the son of Hades and all."




"It's not so easy. We need music."




I was pretty sure if I tried to sing, all I would cause was an avalanche."

"'Why do you need to gallop while you fly?'




'Why do humans have to sway their arms while they walk? I dunno boss, but it just feels right.'"

"The older lady harrumphed. 'I warned you, daughter. This scoundrel Hades is no good. You could've married the god of doctors or the god of lawyers, but noooo. You had to eat the pomegranate.'"
Arvenig:
'I figured he would rather have his mane braided like My Little Pony than be back here again.'

'Woof!' Mrs O'Leary looked up, probably wondering if we were going to play fetch with the satyr.

'Hey, Ugly!' Annabeth yelled. I hoped she was talking to the giant, not me.

The Lord of Time disappeared under a giant blue butt.

'Son of Hades.' Kronos spat on the ground. 'Do you love death so much you wish to experience it?'




'Your death,' Nico said, 'would be great for me'
What's your rating for this book and why?
Alex: 5 STARS because…what's not to love? There's death and romantic tension and death and betrayals and death and Nico (death)! While I think the Titan's Curse is still my favorite book (in this initial series), this one is a close second (the order, if you're wondering, is 3, 5, 4, 1, 2)..

Arvenig: 4.5 out of 5 stars. I don't why but I just can't give it a 5 stars, but well 4.5 is very very good for me! In this book there's more action, and everything it's always a surprise, the reading I think it's faster and lots of other things.

Are you going to continue with the Heroes of Olympus series?
Alex: Again??? Ahhhhh the pain. I probably will eventually. It depends who we end up seeing again in the Trials of Apollo. I do suggest that Arvenig should read it though, even if I do have some negative opinions…it's worth it. The Hidden Oracle was worth it. The fanfiction is worth it.

Arvenig: YESSS! Probably not this year I want to finish some series before that, but I'm looking forward to it!! Alex, I'll probably read that, I'm so excited now that I finally know some Rick Riordan's books!

How was your first time HOSTING a readalong, a giveaway, Twitter chats, etc.?

Alex: Umm..stressful? More work than I was expecting? MUCH more time consuming. I don't regret anything though. It made me actually have to do stuff this summer, while simultaneously making me look like I'd done nothing. I also spent the first money that I ever have on my blog (in the form of postage..), which was kind of weird, but also…educational?…in a way. I learned how to fill out a customs form! I learned what a custom form is! It actually arrived! I don't know. It made me talk to people. Sometimes even in the outside.
Arvenig: It wasn't my first time hosting a giveaway, luckily. I thought, too, that it was going to be much easier. The really difficult things for me were reading with a schedule (yes I always started the books three days before the deadline) and writing a review the same day or the day after, since I usually take a week to make up my mind and write a review, in fact now I think I want to set a couple of higher ratings. I'm also so happy that I co-hosted this readalong especially that I co-hosted it with Alex, thanks for the patience! I had a lot of fun and it has been an awesome experience that also gave me lots of ideas (as some corrections in my review format).
The Giveaway Winner
The giveaway ended two days ago and the winner is Jodie @novellover97 that has also a blog: forthenovellovers
Our Twitters:
What was your favourite part of the book? What was your favourite book in the series?
Thanks for reading,